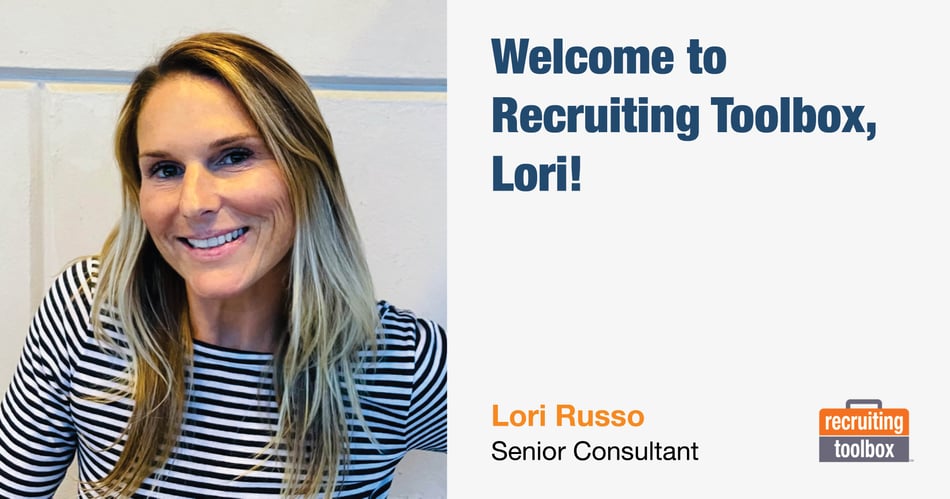 Recruiting Toolbox is proud to welcome Boston-based talent leader Lori Russo as a Senior Consultant.
Lori Russo brings a unique blend of marketing, advertising, hiring manager, and talent acquisition leadership experience to Recruiting Toolbox. As a former TA leader with companies like TripAdvisor and Salsify, and former consultant, she has successfully built strong recruiting teams and processes, developed and implemented employment brand and candidate experience strategies, and deployed hiring and interview training. She's also the second consultant on our team who first worked with us as a practitioner/client – in fact, Lori is a three-time client of Recruiting Toolbox.
"I've known John Vlastelica and Recruiting Toolbox since 2014, when I first hired his firm to help me with some consulting and training projects as the new head of TA at TripAdvisor" says Russo. "As a former business leader turned talent leader, I'm especially excited about the work we do to help elevate the capabilities of hiring managers and help companies attract more talent from untapped groups."
John Vlastelica, Founder and Managing Director, adds,
"I've known Lori for years, have brought her to conferences to present on talent best practices and highlight her experience as a business leader and hiring manager. It's so cool when clients become teammates, as they know our approach and ROI first-hand. I'm honored to help Lori share her expertise with our global client base. They're going to love her energy, credibility, and sense of humor. Her hands-on recruiting and marketing leadership experience complements our team and captures the essence of our brand - a consulting and training firm focused on real-world solutions to hiring and recruiting teams' need for more speed, quality, and diversity ROI."
Learn more:
About Recruiting Toolbox
Recruiting Toolbox is a 15-year-old global management consulting and training firm focused 100% on helping recruiters, hiring managers, interviewers, and recruiting leaders recruit better. We've been hired by many of the world's leading companies to help build and deploy the right strategies, processes, tools, and training that gets their people aligned on "what good looks like," skilled up in sourcing, interviewing, closing, and talent advising, and focused on hiring the right talent across their diverse organizations. Our work has been leveraged by leading companies in over 20 countries, including Slack, Google, PepsiCo, Uber, Disney, Nike, Booking, Target, Nubank, PepsiCo, Amazon, Autodesk, Micron, and Starbucks.