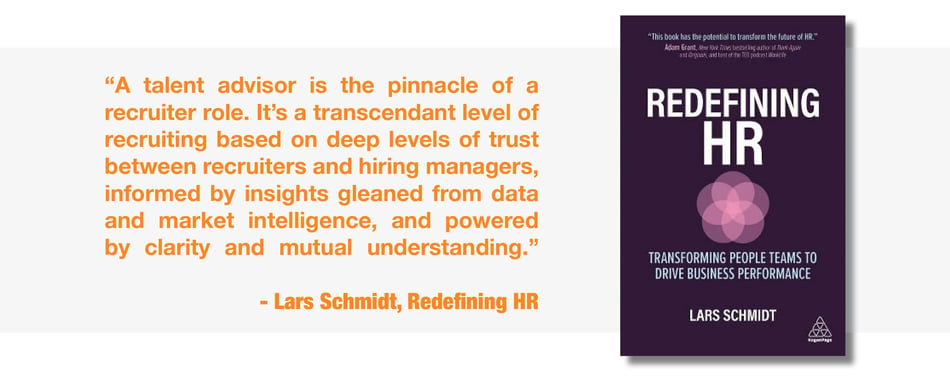 Looking for the latest in innovative HR insights? Look no further than Redefining HR, published in January 2021 by Lars Schmidt, which was described on LinkedIn's Talent Blog as "an experimental lab on how to move HR forward, filled with ideas and case studies from companies such as HubSpot, Reddit, Eventbrite, and Mastercard."
Here's the first idea.
1. Upgrade your role from recruiter to talent advisor
Historically, recruiters viewed hiring managers as their "customers," the people from whom they took orders. But in the most progressive companies, Lars writes, recruiters are evolving into "talent advisors," and their relationship with hiring managers is becoming more one of equals.
What does this look like? Consider the words of John Vlastelica, founder and managing director of Recruiting Toolbox, whom Lars interviewed for Redefining HR. "It's no longer about 'taking the order,' and accepting unrealistic target candidate profiles, unrealistic salary ranges, and bad interviewing practices," John says. "It's moved into something more akin to a strategic partner."
As a talent advisor, you bring all your business knowledge and hard-earned wisdom to the hiring process. You leverage the market realities you encounter everyday to hold data-informed, expectation-setting conversations with hiring managers. You work together to build realistic candidate profiles and recommend appropriate salary ranges. You coach the hiring manager on how to play a leadership role during the interviewing and selection process.
"Diversity is embedded in [talent advisors'] approach," John adds. "Not because of compliance but because [talent advisors] know that talent is equally distributed across people, but access and opportunity is not. To improve diversity, they ensure hiring managers don't depend on candidate pedigree as a signal for quality, look outside of their homogenous teams for referrals, build interviewing teams that reflect the diversity they seek, and make fair, transparent, bias-free hiring decisions."
Curious to learn more about how recruiting and hiring teams can innovate and partner strategically to drive business performance? Take a read through Redefining HR. And when you're done, check out our free talent advisor resources here.