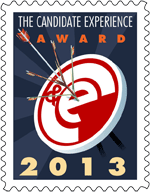 By Ben Gotkin
Candidates hate your hiring experience. Well, maybe not yours specifically, but overall, candidates are not happy campers. Online applications are lengthy and cumbersome, interviews can be as well. And the 'resume black hole'… Don't get me started…
The truth is that while active job seekers who need your job will jump through rings of fire and are willing to be battered and bruised to be considered for your job, top employed talent isn't going to waste their time with a crummy experience. Here's a few facts:
Average drop-off rate on corporate career sites between the time a candidate lands on the site and the time they complete an application is 85% or more.
Customers/candidates who have a bad experience with your organization are 7 times more likely to tell their friends about it than those who had a good experience.
Candidates are sharing these poor experiences today in significant numbers on sites like Glassdoor, Vault and Twitter.
A poor candidate experience results in reduced access to top talent, reduced efficiency, increased costs and lowered quality (yes, this is impacting your bottom-line).

YOU

have control over your organization's candidate experience.
Fortunately, there are a number of companies that are taking their candidate experience seriously, to the point that for the past 2 years, many of those organizations have been recognized for their efforts through The Candidate Experience Awards program. This award program is open to any organization that wishes to participate, either to compete for an award or to simply benchmark their candidate experience as they search for opportunities to improve.
I've been a big fan of this awards program since its inception for a couple reasons. First, it brings to light the best practices of organizations large and small that have made significant efforts to create the best experience possible for their candidates. Second, the survey from this program, now going into its 3rd year, is beginning to provide some very rich quantitative data, which is available for broad analysis across survey participants, and by the participants themselves. Finally, it helps organizations understand, "How good or bad is my candidate experience?" and "What can I focus on short-term and long-term to improve".
I was honored to be invited to join The Candidate Experience Awards Council, which is made up of many of the top minds in the Talent Acquisition profession, including my Recruiting Toolbox colleagues, John Vlastelica and Carmen Hudson. Recruiting Toolbox consultants have had significant experience in their corporate careers, and working with their clients, to help those organizations optimize their technology, their overall process workflow, their strategy and their interviewing and selection techniques, in order to create the best candidate experience possible.
The 2013 Awards program is set to begin and I strongly encourage all organizations to participate in this worthwhile (and potentially rewarding) initiative. To learn more and to participate, please visit http://www.thecandidateexperienceawards.org.