To ensure they have the resources and support they need, Autodesk, one of John's clients, even dedicates a few hours during interview training solely to showing hiring managers how to build this compelling online presence.
"They're trying to teach them how to engage with the communities where we need to be farming, we need to be planting seeds," John says. "Getting your hiring managers to be more visible in the communities you want to recruit from — that is key to great pipelining."
Another tactic used by one of John's former employees is setting "coffee chat" goals for hiring managers. The company gives them a gift card for a coffee shop and tasks them with meeting a certain number of promising candidates who aren't actively looking for a job. But the manager's role isn't to convince these candidates to come work for the company — it's just to talk to them, and to listen.
"You're having a conversation around what they like to do, what projects they're working on," John says. "You slip in, where appropriate, conversations about the interesting problems and challenges and work you're doing…. This is pre-funnel work."
Pre-funnel work is all about building awareness — getting the people you're really interested in hiring thinking seriously about becoming candidates. Some of these efforts may only pay off months or even years down the line, and that's fine. The goal is to "always be recruiting" and to instill that same mentality in your hiring managers. And when you start seeing results, you can share them internally to get others on board.
"Focus on the [hiring managers] that are willing to engage," John says. "Start there and kind of build your reputation. Build the ROI story so you can get other people that aren't interested to do this."
2. For high-volume roles, analyze whether most hires are internal or external and focus on the most useful source
While some hard-to-fill roles demand extensive pipeline efforts and a lot of hard work from you and your hiring managers, other roles may be easy to fill internally. And unless you're paying attention to your source of hire, you may be wasting valuable time and resources by focusing on sources that don't pay off.
Another of John's clients, Sodexo, a food services and facilities management company, discovered this when it analyzed the most common sources for some of its high-volume roles. For one job category, the company found that 90% of hires were internal. Despite this, recruiters were spending a disproportionate amount of time talking to external candidates, which was time they could have applied to roles that actually required more outbound-sourcing work.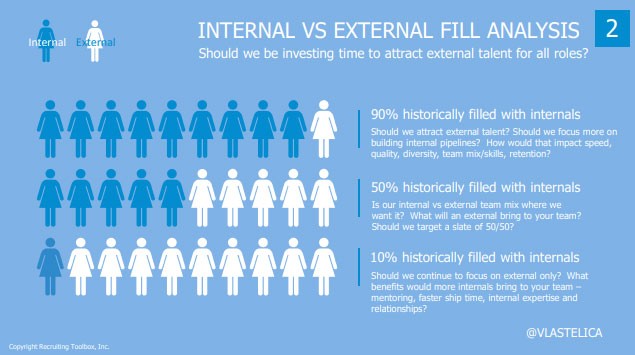 To help you identify where you could most strategically allocate your resources, John recommends looking at any roles that your recruiting team spends a lot of time on and identifying the breakdown of internal to external hires.