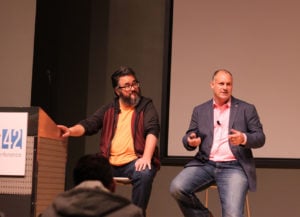 Ben Gotkin shares insights from the great presentation by Nick Mailey (VP TA at Intuit) & William Tincup (President at RecruitingDaily.com) at Talent42, the national tech recruiting conference, held each June in Seattle.
New technology is driving new advances in tech recruiting. Nick Mailey, VP of Talent Acquisition at Intuit and William Tincup, President at RecruitingDaily.com, provided insight into the future of recruiting technology…and that future is happening now.
According to Nick, cloud computing has democratized technology for everyone, by driving down costs, increasing accessibility, and reshaping how organizations are thinking about the application and impact of technology. At Intuit, Nick and his team have already defined their future in talent acquisition, one driven by AI tools taking over many transactional tasks that can be automated. The future is closer than all of us think, however, as Intuit is already through year 1 of a 3-year journey to implement a highly-innovative, game changing full recruiting tech stack. Nick shared a video of what this future looks like, where recruiters, hiring managers and candidates interacted with an AI recruiting assistant (think: Alexa) throughout the entire recruiting process. According to Intuit, much of the tech that was demonstrated in the video already exists; it's the natural language processing component that's still a couple years away.
Driving this decision to pursue such an ambitious, enterprise tech solution was a realization at Intuit that no one off-the-shelf solution existed that would fit their future recruiting needs. Nick and his team took 4 steps to help them define their future full tech stack, including:
Knowing the problem you are solving. Most current TA tech solutions are what was described as a "Cobweb of Crap", driven by workarounds, and the productivity lost by having to switch between multiple apps that don't integrate effectively. Intuit needed a better fully integrated product that would provide more flexibility and speed, while reducing unproductive behaviors. They realized that they needed a TA tech roadmap along with an interest to "datafy" the experience of the candidate through the full process.
Identify the customer. They focused first on the hiring manager, then defined key touchpoints through an end-to-end experience, including on-boarding. They also needed to solve for candidate and recruiter needs. Usability, extensibility and flexibility were the most critical criteria to consider (with a keen eye on adoption as well). Cost-of-ownership was also important as they needed to understand 3-4 years out. "How much are we actually investing to build, and how much of the cost is going to be upfront…and then will our spend go down or go flat?".
Think outside the box. Intuit chose what they wanted to own (mostly front-office and customer-facing), and what they didn't need to own (back-office and where they didn't have core competencies). They looked at many solutions, but after noticing that sales, customer care and marketing orgs were moving to a Salesforce platform, they realized that this solution could offer the most opportunities over time. They also partnered with a start-up to help them automate processes that supported how they wanted to work. They used Talent Objects, which got them 90% of the way there before they went out of business, and thus has somewhat delayed the timeline of the project. Nick doesn't regret the decision to use Talent Objects, though, as he got licensing rights to the source code so that they could continue to innovate.
Experiment once you have a foundation. Intuit created 'Awesome Req'. It takes less than 20 seconds to create a new req now. You can also set up an interview team and hiring criteria. They also created a new apply and onboarding process. All the data goes into their data warehouse, which they feel has now 'datafied' the end-to-end experience.
After Nick's portion of the session, he passed the mic over to William Tincup, who also understands the challenges of walking into "Frankenstein" tech, and trying to figure out what to do with it.
William made the case that keeping up with TA Tech is a part of your job. There are over 22,000 TA technologies on the market today. How can one possibly keep up with all of that? Peer sharing and collaboration, rating sites, and organizations like Gartner can help. William also walked through some of the major categories of tools to help tech recruiters, with some examples in each category.
Candidate Assessment:

ArticShores – Gamification – Helps assess skill levels.
Predictive Hire – Assesses future performance, starting with current top performers.

Candidate Communication:


TextRecruit – Candidates want you to text them, helps with templates

Candidate Matching:
Employee Referrals (Don't want C & D talent making referrals, focus more on getting talent from A-players):
Recruitment Marketing:

SymphonyTalent – Helps you determine where you should advertise and how much to spend, can manage media buy for you. Also provides creative services
VideoMyJob – Makes video job ads, makes it stupid proof, using your phone as a script builder.

Screening:

TechScreen – Built by a tech recruiter – Automated probing to get to better depth and breadth
eTeki – helps with interview scripts

Sourcing:

AmazingHiring – pulling talent profiles together to be searchable
Ideal – Use AI to look at resume and find what's really important, makes that searchable
William added that the following trends are driving TA tech today: speed, predictive, reflective, connectivity, training, responsive, adaptable, modeling, ratings, cleansing. He suggested that you first need to know what you are solving for, be critical about your process, and then go look for products that fit your process, not the reverse.