Do you have an upcoming interview for a new recruiting job?
Wednesday, 24 September 2008
I loved this - heard something new today. Not mind blowing, but a really simple way to think about the hiring decision.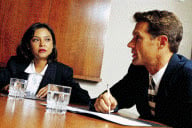 I've interviewed 100s of recruiters in my career, and taught a lot of recruiters and hiring managers how to interview and select great people. And, most of the time (smile), I practice what I preach.